Sword of the Stars: The Pit
My first animation project! I was an assistant animator on this. I painted and handled shading for number of animation cels using Adobe Photoshop's timeline feature and animated my first cycles on this project.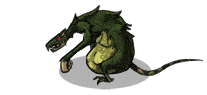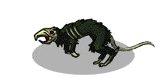 Kaiju A-Go-Go
I was a graphic designer on this, and made over 400 icons representing the powers of the giant monsters players could use to destroy cities.
I helped develop a visual language that both matched the game's style and showed the ever improving power of the player's monsters.